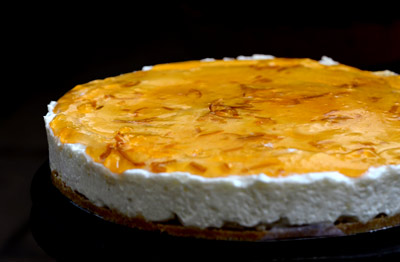 This is my favourite cheesecake. The tanginess of the orange marmalade balances the sweetness of the cream cheese filling and makes this cheesecake truly something to die for.

Preparation time : 20 minTotal time : 4-5 hours
Makes one cheesecake of 9"dia

Ingredients:
Crust:
1 cup graham cracker crumbs, crushed
2 tbsp unsalted butter
½ cup brown sugar
Filling:
450gm cream cheese, softened **
1/3 cup sugar
1 tsp vanilla extract
2 cups whipped cream
100gm orange marmalade
1 tsp unflavored colorless gelatin
3 tbsp water

Method:
Combine cracker crumbs, butter and sugar with a fork. Press into a 9 inch springform pan and refrigerate for about 15 minutes.
Beat the cream cheese, sugar and vanilla extract together, preferably with an electric mixer.
Dissolve the gelatin in the water and add in the cream cheese mixture. Whip until fluffy.
Gently fold in the whipped cream.
Pour the cheese mixture over crust and chill in the refrigerator for 3-6 hours or until set. Add a little water to the marmalade and heat it until it is of pouring consistency. Pour over the cheesecake and refrigerate for another half hour.
**
Note:
A much cheaper and easier option to making your own cream cheese, is to just hang thick yogurt in a muslin cloth, overnight. Make sure to leave it hanging in the refrigerator to ensure the yogurt does not sour. The quantity reduces by nearly half, so you'll need about a kilo of yogurt for this recipe.