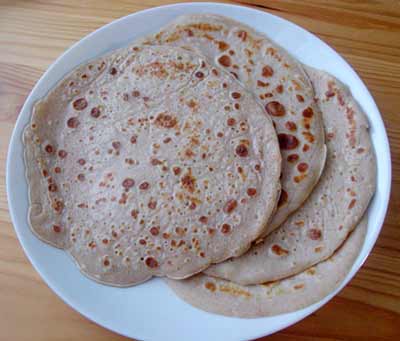 Makes 7 pancakes

This is the recipe for the basic pancake. You can use whole wheat flour instead of plain flour to make it healthier. The pancakes turn out alright without the baking soda too, but are less fluffy.

Ingredients:
1 cup plain flour
1 cup milk or buttermilk
1 egg
1 tbsp sugar
½ tsp baking soda
A pinch of cinnamon powder
Note: For eggless pancakes, substitute egg with 1½ tbsp oil and 1 tsp baking powder.

Method:
Mix flour with sugar and baking soda.
Beat the egg until fluffy and then add milk.
Stir in the flour and mix well. If using a blender, put all ingredients into a blender and blend.
Heat a girdle. Smear it with oil if not using a non-stick pan.
Once hot, pour enough batter to make a 6 inch circle.
Flip over when half inch of the edge looks dry.
Repeat for the rest of the pancakes.
Serve with maple syrup or honey.
---
Similar Recipes:
Brown Bread (Whole Wheat Bread)
Blini (Russian Crepes)
Rye Crepes