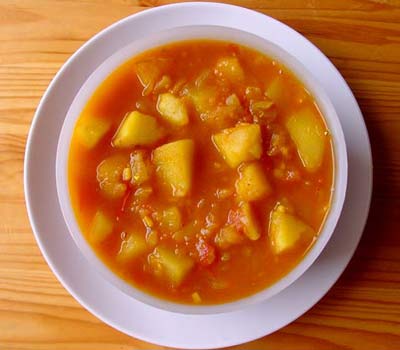 Serves 4

Ingredients:
3 large potatoes, peeled and cubed
2 large ripe tomatoes, chopped
1 small onion, chopped
4 cloves garlic, minced
˝" piece ginger, minced
˝ tsp turmeric
˝ tsp chili powder
˝ tsp coriander powder
˝ tsp cumin seeds
˝ tsp sugar
1 tbsp ghee

Method:
Heat ghee in a deep bottomed vessel and add jeera.
Add garlic, ginger and onion and sauté until onion turns light brown.
Add potatoes, tomatoes, salt, sugar and the spices.
Add 2 cups of water and pressure-cook for one whistle. In case of open-cooking, cook until potatoes are done.
Mash 2-3 pieces of potatoes and integrate them into the gravy.
Serve hot with rotis or parathas.
---
Similar Recipes:
Aloo Palak Dal
Kadhi Pakoda
Baingan Bharta (Eggplant Relish)
Rajma Masala
Palak Paneer (Spinach Curry w Cottage Cheese)
Matar Paneer