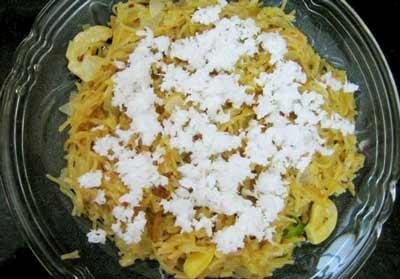 Serves 4

Ingredients:
2½ cups Vermicelli
1 small onion, chopped
½" piece ginger, finely chopped
1 green chili, chopped
Split & cleaned black gram dal (white udad dal)
½ tsp mustard seeds
4 tbsp cashewnuts
6-8 curry leaves
Freshly grated coconut

Method:
If the vermicelli is not the pre-roasted kind (the white one), dry-roast it in a pan until light brown, with constant stirring.
Heat oil and add mustard, onion, ginger, curry leaves and green chili.
Cook on low flame until onion becomes transparent.
Add cashewnuts and stir till crisp.
Add the vermicelli and stir for 2 minutes.
Add boiling water to just cover the surface of the vermicelli and add salt.
Cover and cook on low heat until done
Serve hot garnished with freshly grated coconut.
---
Similar Recipes:
Akki Roti
Tomato Omelette
Mavinakayi Chitranna (Mango Chitranna)
Lemon Rice (Chitranna)
Tamarind Rice (Puliogare)
Paddu (Appe)
Karnataka Sambar