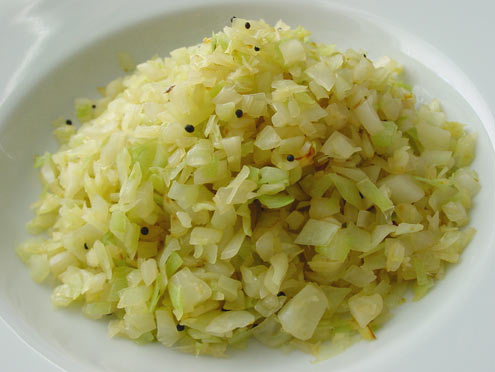 Serves 2-3

Whenever I want to whip up something in under 10 minutes, I turn to cabbage. This wonderful, tasty vegetable is really quick to cook, and even great eaten raw. Always remember while cooking leaves, that they reduce drastically in volume after they are cooked. What looks sufficient for 4 people raw, might fall a little short of 2 servings after cooking!

Ingredients:
½ medium-sized Cabbage, chopped small
½ onion, chopped small
½ tsp mustard seeds (or cumin seeds if you are skipping coconut)
½ cup freshly grated coconut (optional)
¼ tsp Turmeric powder
Salt to taste
1 tbsp oil

Method:
Heat oil in a wok and add the mustard/ cumin seeds.
Once the seeds start spluttering, add the onion and cook on a low flame until soft.
Add the cabbage and increase the flame to high. Stir for about 3 minutes
Reduce the flame and cover and cook until done, stirring occasionally.
Add salt and turmeric powder, stir, and then add the grated coconut.
Cover and let stand for a few minutes
Stir and serve.
Did you Know?
Cabbage when eaten raw, consumes more calories than it provides to the body, making it a dieter's dream vegetable.
---
Similar Recipes:
Chana Usal
Green Gram Sabji
Rasam
Pulissery
Soya Palak Stir Fry