The healthiest of all rice is brown rice. It is then followed by parboiled rice, even better if it is red, since red rice is not polished and contains more fibre. Sona masoori rice is next, and basmati rice is the least healthy of them all, since it is too polished and hence heavy on the digestive system. The whiter and longer the grain of rice, the unhealthier it is.


Identifying the Rice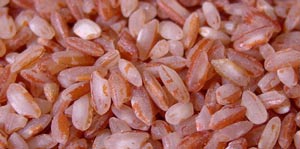 Brown Rice
The process that produces brown rice removes only the outermost layer i.e. the hull of the rice kernel and is the least damaging to its nutritional value. The complete milling and polishing that converts brown rice into white rice destroys 67% of the vitamin B3, 80% of vitamin B1, 90% of the vitamin B6, 50% of manganese, 50% of phosphorus, 60% of iron, and all of the dietary fiber and essential fatty acids. Brown rice as an excellent source of manganese, and a good source of the minerals selenium and magnesium. Brown rice nutritional value:
Manganese-Energy Production Plus Antioxidant Protection
Brown Rice is Rich in Fiber and Selenium
Phytonutrients with Health-Promoting Activity Equal to or Even Higher than that of
Vegetables and Fruits
Benefits of eating Brown Rice:
Those Who Eat Whole Grains Weigh Less
Significant Cardiovascular Benefits for Postmenopausal Women
Lignans Protect against Heart Disease
Protective against Breast Cancer
Lowers Type 2 Diabetes Risk Substantially
Lowers high blood pressure
Lowers Cholesterol
Reduces Risk of Metabolic Syndrome
Reduces the severity of asthma
Reduces frequency of migraine headaches
Reduces risk of heart attack and stroke
Further Reading:
WHFoods Brown rice
The Health Benefits of Whole Grains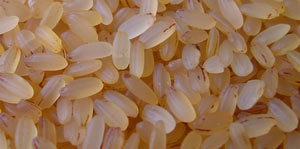 Parboiled Rice (Or Red Rice)
If brown rice is not available from your grocery store a close second would be parboiled rice. The practice of parboiling rice is more than two thousand years old and started in India. Parboiling is a steaming process that drives nutrients, especially thiamine, from the bran into the grain. Of course, brown rice is still the preferred choice.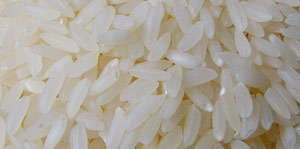 Sona Masoori Rice (Short Grain Rice)
Sona Masoori is the most commonly used rice in India. This is healthier than basmati, since it is not as polished, and hence retains slightly more nutrients.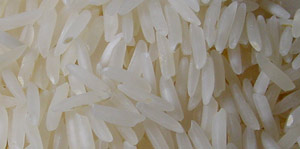 Basmati Rice
Basmati is a highly polished rice. It is fragrant, beautiful and the most popular rice for special occasions. It is used in dishes like pulao and biriyani.
---
Similar Recipes:
Food For Thought: The Importance of Cooking
How to Select Vegetables
Glossary (A-C)
Glossary (D-M)
Glossary (N-Z)
Cooking Guide for Beginners
Coconut Milk
Cottage Cheese
The Basics of Indian food: Rice and Dal
Dal (Lentils)
TroubleShooting
The Simplest, Quickest Side-Dish
Butter Garlic Prawns
Bread Pudding
Spicy Garlic Mushrooms
Quick Cheese Scones
Fish Rava Fry